EDA Encourages Support for St. Clair County FIRST Robotics Teams
November 29, 2022
St. Clair County is home to nine FIRST Robotics high school teams that make up the Blue Water Area Robotics Alliance (BWARA). Area teams are seeking support from businesses as they prepare for the new season starting in January 2023.
BWARA teams exist to encourage the development of students' interest in the areas of math and science. By doing so, the program prepares young minds to work and thrive in our increasingly technological world and global economy.
The teams participate in a competition held by FIRST (For Inspiration and Recognition of Science and Technology), a program developed in 1989 in order to inspire more interest in the fields of science and technology. In this competition, teams design, program, and build a robot that performs an annually assigned task - all in a span of six weeks!
The process of building and designing the robot is not an easy one. The journey from the first kit of parts and the first blank sheet on the drawing board to the completed robot participating in the competition is long and stressful, yet the value and benefits reach so far beyond robotics and competing. Through the program, students gain a priceless opportunity to experiment and explore their technological capabilities and gain exposure to several aspects of technology, including technical design, computer programming, and even business management.
Businesses are encouraged to reach out to any of the nine BWARA teams to learn more about their activities and how you can support them (financially, in-kind contributions, or volunteering). The investment companies make today are supporting their pipeline of talent that play a role in your operations in the future.
School: St. Clair and Marine City High Schools
Mentor: Steven Tenniswood
Team Nickname: Full Metal Muskrats
School: Algonac Jr. Sr. High School
Team Nickname: Jacked Up Jackets
School: Memphis High School
Team Nickname: Mecanum Knights
School: Port Huron High & Port Huron Northern High Schools
Team Nickname: Metal and Soul
School: Capac High School
Team Nickname: The Blue Devils
School: Richmond High School
Mentor: John VanGampelaere
Team Nickname: RoboSapiens
School: Cardinal Mooney Catholic High School
School: Marysville High School
Team Nickname: Yale Jiggawattz
The Community Foundation of St. Clair County established the Blue Water Robotics Fund in 2018 to support Blue Water Robotics teams, programs, projects and services. If you are unsure which specific team you would like to support, the Blue Water Robotics Fund is a great way to assist robotic efforts in our community. You can learn more about the fund at https://www.stclairfoundation.org/fund/blue-water-robotics-fund/.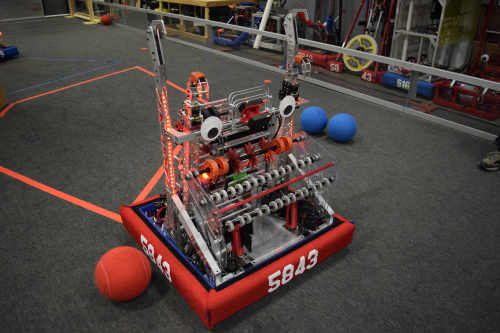 ADD ITEM TO REPORT
As you navigate our website, you can use the "Add Item to Report" button to add any page or property to a custom report that you can print out or save.